Our Concept is simple: Provide rugged, dependable products able to meet the needs of the most demanding industrial environments.
Since 1910, this philosophy has been behind every Blowers LLC product manufactured, and has helped us gain our reputation for reliability, economy, and long service life. Below is our products that are well established and relied on by manufacturing and variety of service industries.
The motors in all Blowers LLC Tools feature sealed, precision, permanently lubricated, ball-bearings to minimize maintenance problems and downtime; shatter resistant impeller and fan chamber; and, rugged cast aluminum motor housing. And more, even the finish–baked enamel–is designed to last.
Some of Our Customers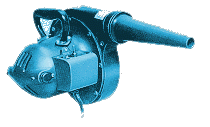 Industrial Hand Held Blowers
One primary reason for the popularity of the Blowers LLC. Brand of Hand-Held Air Tools is Dependable Performance.Each unit is designed to operate under the most demanding requirements, and when it comes to industrial requirements, there are none more demanding. Read more…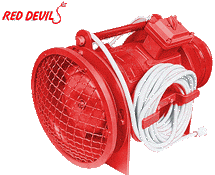 Red Devil
The Red Devil portable vaneaxial fan, developed to provide emergency ventilation, has been used by the U.S. Navy, the U.S. Coast Guard and foreign navies for over 50 years. Designed to meet the extremely strict specifications of Mil-V-24761(ships). Read more…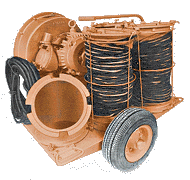 MA-1
The MA-1 is an explosion-proof, portable centrifugal fan designed for ground support for aircraft fuel cell ventilation. Used by the U.S. Air Force, foreign air forces and commercial airlines. Built to conform to Mil-B-7619. Read more…
GSA and Department of Defense Applications | Blowers.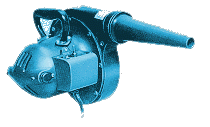 One primary reason for the popularity of the Blowers LLC Brand of  blowers is Dependable Performance. Each unit is designed to operate under the most demanding requirements. Read more…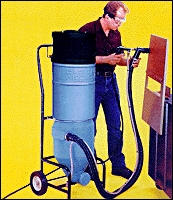 Clean and Safe Sandblasting . . . Indoors Recirculating Sandblaster Uses Any Blasting Media. Now you can have all the benefits of sandblasting without any of the problems or time-consuming clean-ups. Sandblasting indoors with the QUIK-BLAST sandblaster is convenient, clean, economical, and safe. It's clearly preferable to grinding discs because the QUIK-BLAST sandblaster removes surface impurities without affecting the base material.The Better Alternative for Surface Preparation. With its integrated vacuum and filtration system, QUIK-BLAST makes possible dust-free cleaning of the surface prior to painting or finishing, and after welding. Read more…
Abrasive Separators

Blowers Inc. Abrasive Separator by cyclonic action extracts dust from the blasting media in the cabinet to provide visibility improvement, resulting in a more efficient working environment for the operator. It then separates the dust from the media so it can be reused to provide longer media life and lower operating costs. The volume of desired re-circulating air is easily adjusted by a simple control valve. Read more…